Bespoke handmade gates made to order from your own design ideas.
Bespoke Gate Ideas Norfolk
It's most definitely not unusual for a customer to approach us with a requirement for a metal gate or railing but feel lost amongst the vast number of catalogue images and potential options. Whilst scrolling through the images pages online can certainly be helpful, sometimes you need some friendly advice and direction.
To help you get started, we have produced a selection of designs encompassing some of the key design concepts for consideration. Of course, we can fabricate your gate exactly as per the drawing! However, we like to think of them as more of a template and a starting point for discussion. All of our manual and electric steel gates are available as a single or double and can be designed to open to 180 degrees. We can offer a selection of weights and styles of steel depending on the purpose. Our gates are supplied with a keyed barrel lock or sliding latches to accommodate padlocks. You can mix-and-match elements across the designs, view our range of samples and catalogues and take advantage of our expertise and advice to build your perfect property addition.
Steel Gate Fabrication Norfolk
We always use solid steel for our uprights for maximum durability and strength. Many of our competitors can offer cheaper, 'off the shelf' gates from overseas manufacturers. These gates will be fabricated from tubular, light-weight steel. You can easily identify a cheaper gate by simply trying to lift it! We can't promise to be able to offer a better price than a DIY store, but we can assure you that your bespoke gate will be of a premium quality – fabricated with solid, heavy steel and built to last.
Whilst we love to be creative fabricators, design can be limited where there is an integral or structural need. We have a wealth of experience of working within regulatory parameters and engineering requirements, so we will be able to advise how to embrace these within the design project.
Fabrication From Start To Finish
We are aware that the purchase of our gates is a significant investment. We are familiar with helping our customers to build their product to their budget and will help as much as possible to reduce costs if necessary. Many of our services are optional extras – you can collect from our workshop and install yourself, you can hand paint the bare steel or even use your own timber in our Sandringham privacy gate.
We encourage our customers to take advantage of our free site survey offer. There is no obligation and provides us with the opportunity to show you the samples we have available and informally discuss options to bring your ideas to life. We can take you through step-by-step of the design process from choosing your steel to the finishing the product.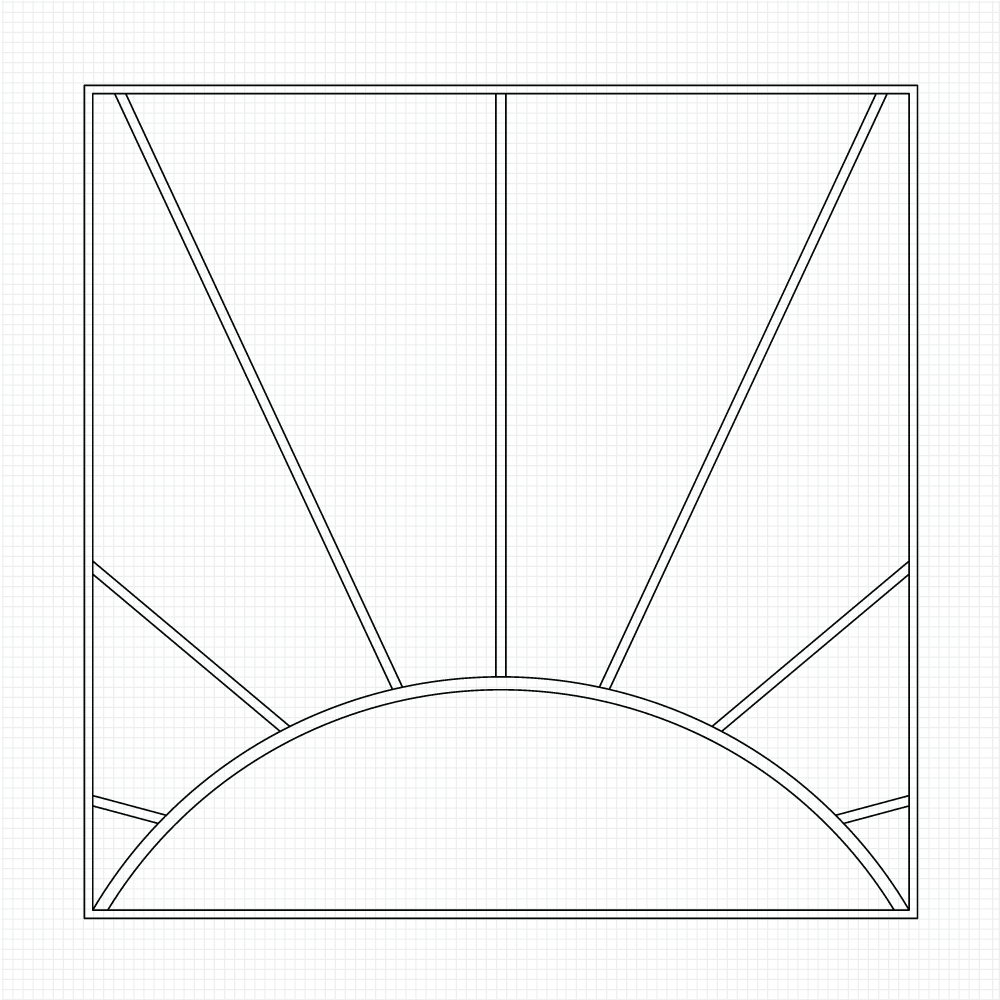 Horsey
Known as the 'sunburst' design, this artistic idea works well at a low-level – for double driveway gates, garden pathway gates or personnel access gates. Whilst this pretty gate does have limitations for amendment, we use the sunburst effect onto top of vertical uprights for taller gates.
Our recommended material: 30mm x 8mm flat bar frame and 'sun' with 12mm round solid uprights.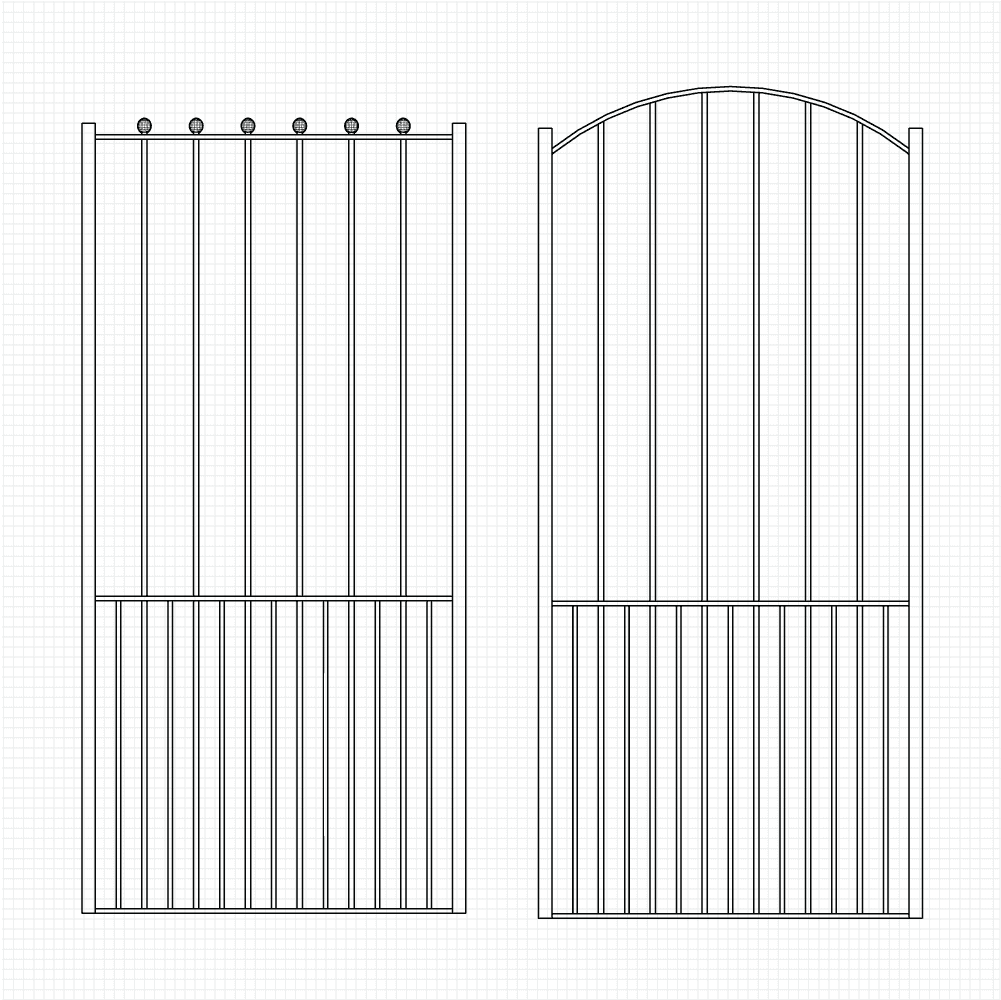 Blakeney
The Blakeney template is ideal for alleyway gates and personnel gates. We've illustrated it here with both an arch top and a flat top. The vertical bars create a contemporary look, but by adding components such as finials, baskets and scrolls you can elaborate this to mirror traditional wrought iron gate designs.
Our recommended material: 30mm x 30mm box-section steel frame with 30mm x 8mm crossrails and 12mm square solid vertical uprights.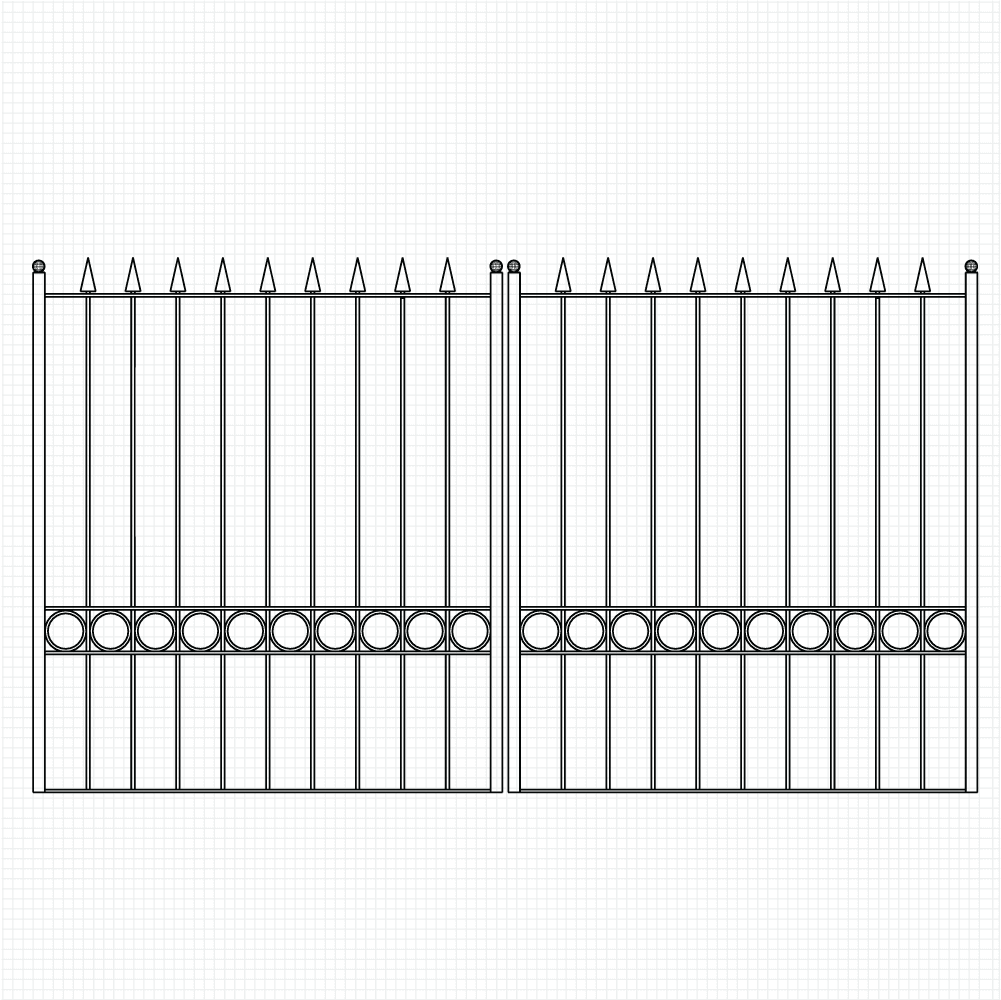 Felbrigg
Our Felbrigg design is a popular choice for simple but stylish driveway gates on a budget. We've illustrated it with an arrow-style finial, but you may wish to consider a ball-top or spearpoint. The arrangement of horizontal circles offers a subtle detail, rather than an imposing rail-style design.
Our recommended material: 40mm x 40mm box-section with 40mm x 8mm flat bar horizontals. 16mm solid square uprights and 12mm x 6mm x 100mm diameter circles. Finial of your choice.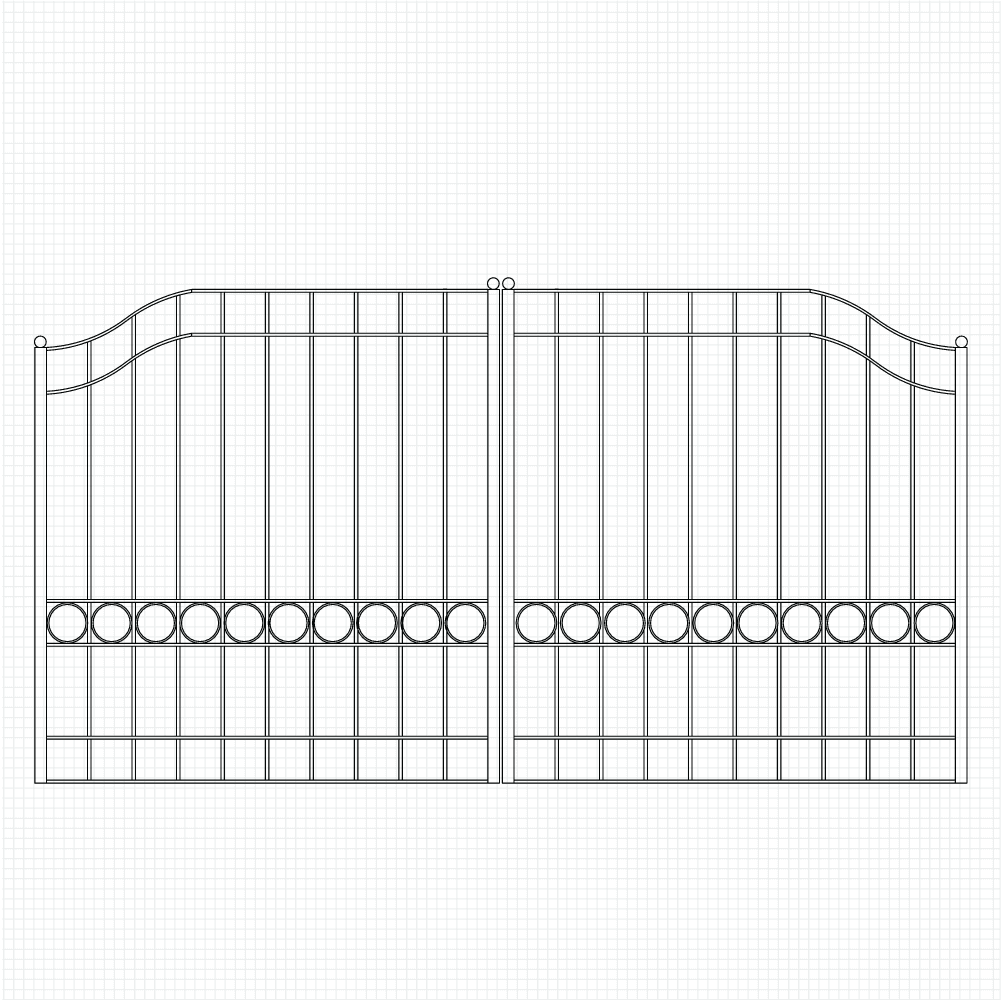 Oxburgh
The Oxburgh design builds upon the concept of the Felbrigg. We've changed the top by removing the finials and adding a gentle curve to the top bar to create an artistic look. We've also added a horizontal bar across the bottom as an additional feature.
Our recommended material: 40mm x 40mm box-section with 40mm x 8mm flat bar horizontals. 16mm solid square uprights and 12mm x 6mm x 100mm diameter circles.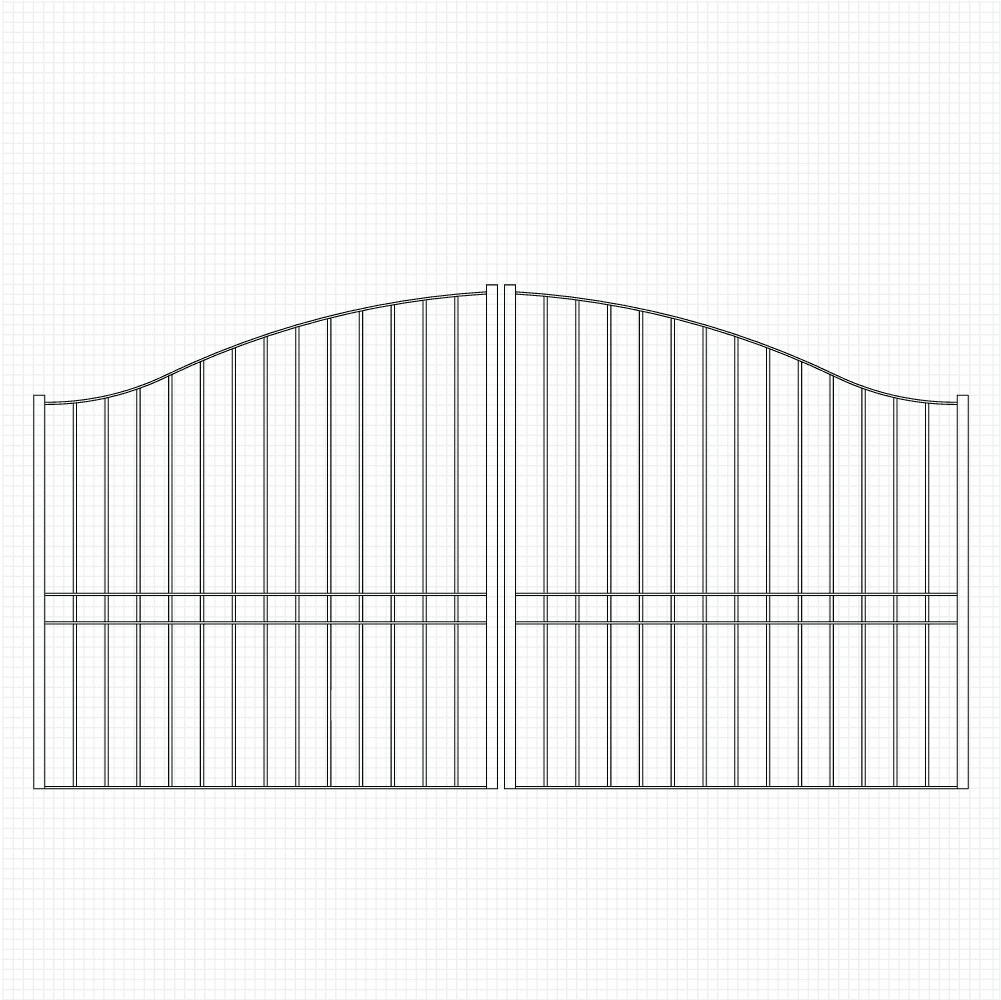 Holkham
An uncomplicated and classic design, the Holkham really is the choice for those seeking something sleek and unfussy. Wrought-iron designs are intricate and beautiful, but there's also something to be said for the simple lines of the steel being crafted into something timeless. Adding the horizontals and the arch-top softens the vertical uprights.
Our recommended material: 40mm x 40mm box-section with 40mm x 8mm flat bar horizontals. 16mm solid square uprights and 100mm diameter circles.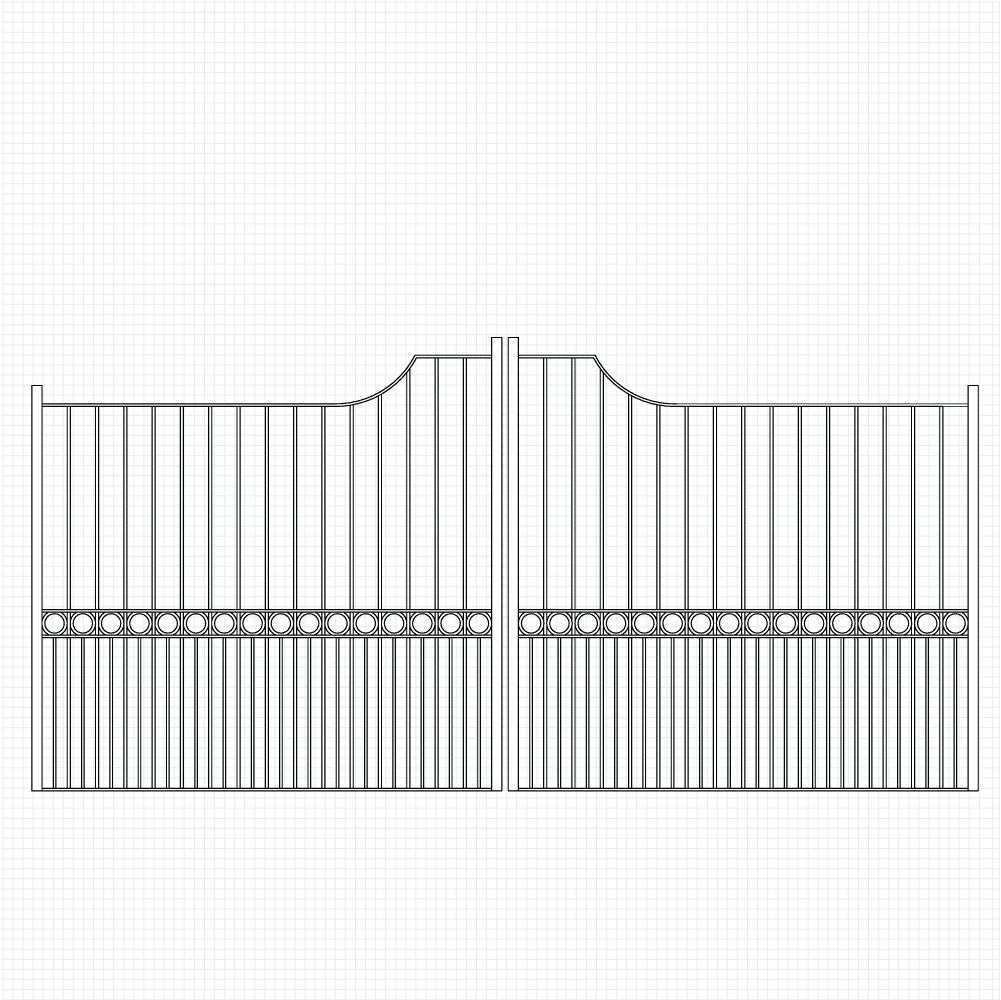 Blickling
Exquisite and elegant, this grand template shows an unusual option for the top of a design. The top box section bar descends gently from the centre outwards, but this would look equally pleasing reversed. The addition of half-height uprights in the lower section of the gate are a good choice for those wishing to keep pets from escaping and safe without 'heaviness on the eye' in the entire space.
Our recommended material: 40mm x 40mm box-section external uprights with horizontals at 40mm x 10mm. A combination of 16mm and 12mm solid square uprights and 100mm diameter circles.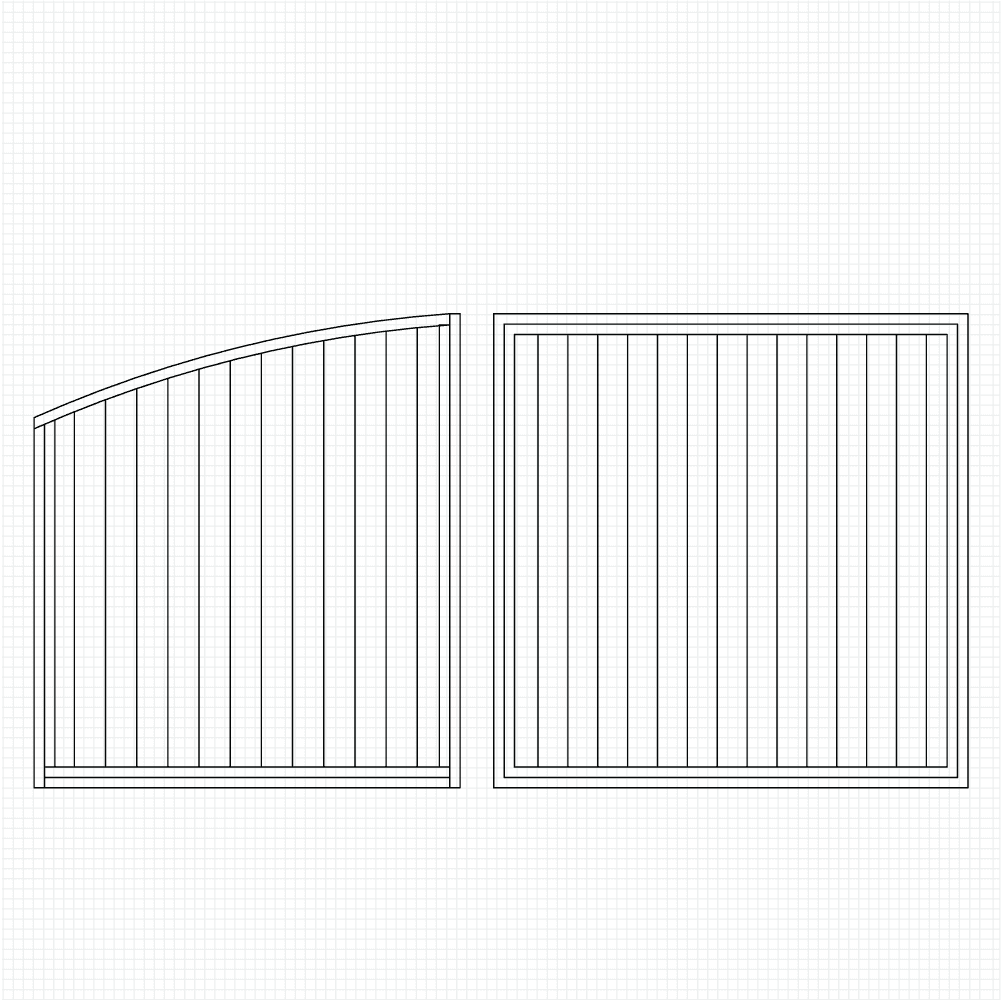 Sandringham
The increasingly popular 'Sandringham' concept is relatively new to the world of privacy gate design.This premier look is fitting to those seeking a modern, sleek style that offers the beauty of wooden gates with the structural integrity of a steel frame. We've illustrated the in-fill vertically, but you can also consider a horizontal or even diagonal design! The double-frame endorses the structural integrity of the gate. This looks particularly pleasing with a black or anthracite powder-coating on the frame, but there is a vast spectrum of colours on the RAL chart to choose from. We've shown you how it can be created with an arch-top or flat-top finish. Unlike the other templates, it offers ultimate privacy.
You can choose between a stunning cedar wood in-fill or a composite in-fill gate. All timber or composite fixings are to the back of the gate so there are no visible screws from the front. We source decay-resistant cedar wood and assist the natural oils with an oil-based finish. The clear finish embraces the natural beauty of the wood, but this can be stained or painted if you prefer. For minimum maintenance, however, we also offer composite in-fill. Composite is a mix of recycled plastic and wood making it a premium choice for those seeking lifetime durability against rot and splintering. You can rest assured that you can enjoy your gates for years to come without any requirements from you.
For those seeking to reduce costs, we can always fabricate the frame only ready for you to add your own timber. Please don't hesitate to contact us to discuss this option if this is of interest to you.
Our recommended material: 40mm x 40mm box-section outer frame with a 40mm x 40mm x 5mm angle iron inner frame.
Pricing a gate on our website is tricky – each product is bespoke and there are lots of different options available. To help guide you, below we've listed our usual starting prices for our steel gates to reassure you these premium products do not need to cost a fortune. You can use these prices as a guideline and mix and match your extras – such as finishings, design details, posts, installation etc.  
Railings per/m  – £80.00
Basic single gate – £650.00
Basic standard width double gates – £1000.00
Depending on your budget, you may wish to upgrade your gates to be electrically operated. As a guideline, to install an inground automation kit wired up by a certified electrician costs approximately £2000.00. As with all our products, you can then build on this further by adding an intercom system and keypad entry. We are experienced in sourcing these quality additions and work closely with a reputable electrician to install our motor kits.
We pride ourselves on offering you the best possible price without compromising quality. As far we possibly can, we are always happy to work with you to refine your design to meet your budget. Please don't hesitate to contact us today on 01692 531322 to discuss your ideas.